Sedang UAS? Bosen belajar mulu? Atau emang lagi bosen aja?
Fear not, random citizen.
Di kesempatan ini, gue akan membagikan beberapa game kecil--yang gue temuin di dunia indah bernama internet--yang bisa langsung di-download dan di-install ke laptop/komputer--seperti yang gue lakukan.
Enjoy.
1. Space Phallus
Fight through a horde of sperm-shaped, penis-shaped, and testicles-shaped enemy in this side-scrolling shoot 'em up game.
No, I'm not kidding.
Link: 8==D
2.Not Tetris
Tetris + Gravity = This
Link: L
3. Enviro Bear
Drive, throttle, brake, change gear, eat. All with one mouse-controlled hand.
Good luck.
Link: via Gamejolt
4. Uberleben
Will you be the last one survived from this epic skydiving fight?
(best played with friends... if you have any)
Link: Go skydive!
5. SkiFree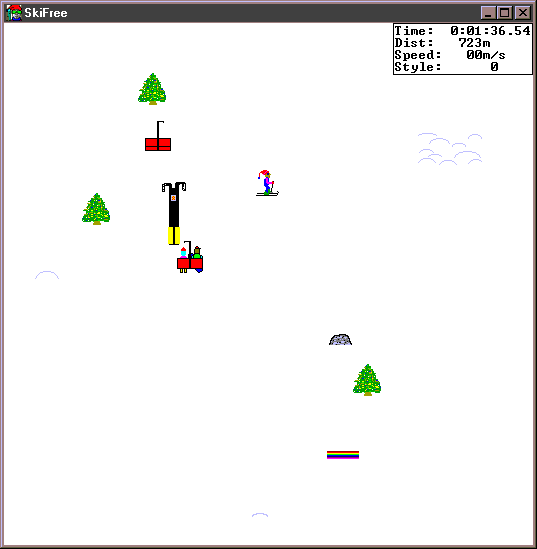 If you know this game, then you're old... or awesome.
...maybe just old.
Link: Old game it is
6. Saut
Jump. Jump. Jump.
Short jump. Long jump.
Jump. Jump. Jump.
Link: click this to jump (via gamejolt)
7. Chaser
Be a green guy who chase a blue guy with some catchy tune playing in the background.
I don't think this game has an end.
Link: Chase him/her/it!
8. N Way of The Ninja
Collect gold. Jump from here to there. Avoid enemies. Reach the exit.
Be a motherfuckin' ninja.
An FPS game where the enemies are... fish.
No, I'm not that high.
Enjoy these games, folks!
image source: google

is a friend, buddy